Freelancers:  Follow one of our social media feeds for freelance job opportunities.  These are up to the minute postings via RSS so you can be first to respond. Search for jobs and Freelance work here.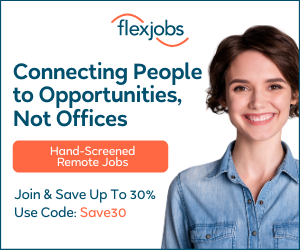 Find Remote Jobs and Freelance Membership is now 30% Off when you use promo code Save30 at FlexJobs!  It's the leading online service for remote, part-time, freelance, and otherwise flexible job listings. FlexJobs helps people find professional, flexible jobs.
These remote work opportunities are available at all levels of their career, entry-level to executive, part-time to full-time, in the U.S. and around the world.
With FlexJobs is the job service where you can find work faster, safer and easier. Is the place for freelancers seeking Permanent Remote Work and Long Term Freelancing for a Company. Get connected with companies seeking freelancers to work from your location. It may be full-time, part-time, or as needed to supplement your current freelance income.
Every single job in 50+ career categories on FlexJobs is hand-screened for legitimacy, with no ads, scams, or too-good-to-be-true "business opportunities".
Sign Up Here with Promo Code:  Save30!
---
Permanent Remote Jobs (Flex Freelance)
Are you a freelancer who does various jobs for a company or a number of companies? Perhaps you are seeking remote work as employee. The demand for either of those types of jobs is in high demand for reasons we will go into. For standard freelance jobs, follow one of our social media feeds for regular freelance job postings. If you are looking for a remote job that is permanent, part time or full time, search for your ideal remote job on the remote work portal that is devoted to only listing companies that offer remote work. It's called FlexJobs because it may be partially remote or fully remote. It may be part time or full time.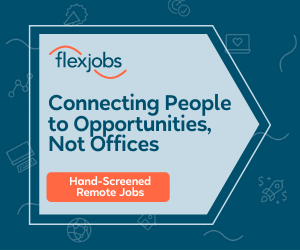 Why are remote jobs in big demand? Obviously, the pandemic forced many employees home to work remotely, even though the career they were working wasn't a remote job. Today, even though the world is slowly returning to normal, some companies have discovered significant cost savings by have at least some of their work force doing the job from home.
But here's the big question. Will the workforce return to working almost exclusively from an office or will there be a hybrid of both office and remote work from home? I believe the latter will work only if there is some kind of structure where companies require "in person" connections to happen, at least for the most part. One key reason for this?
Serendipity
I'm referring to those accidental meeting of the minds where ideas are born or honed for greatness. The napkin pitches in restaurants. Joint ventures that begin at trade shows and business conventions. Annual meetings out in the real world and not on zoom. The introductions to others within a company or industry at holiday parties. And let's not forget about lunches out and water cooler chit chat.
I am not talking about freelancers or those who are fully self-employed.  I fit into these categories and many of us have always thrived on a total commitment to success from a home office. We've built home based businesses or a consistent client list as a freelancers. This article isn't about that. What I am referring to companies, both large and small business, with employees that for the most part have been working from home during the pandemic. It was novel at first, but society has had over 15 months of it. Surely companies and employees have learned firsthand the benefits, as well as the weaknesses.
So, getting back to my original point, as companies slowly move back to normal work life, how many will shift to a mix of work in the office and at home? Time will only tell. Still, I stand behind my original statement: "A hybrid of both office and working from home will only be viable if there is some kind of structure where companies require "in person" connections to happen". This means keeping the office open and requiring people to come to work, at least most of the time.
For secondary staff, where there is no benefit to having them come into the office, or when cost savings are necessary, this may include hiring some personnel to work remotely. This has been proven effective with call centers in other countries, though we don't traditionally call these remote jobs.
Those of us who worked through the 90's will remember talk of the 4 day work week. It was exciting to hear that companies saw the possibility that a balanced life makes for a better employee. Instead, we all just ended up working longer hours well into the 2000's. Newly formed tech companies in Silicon Valley, such as Google, certainly brought a fresh view of what a productive workforce should look like. This included flexible hours, napping pods, allotted paid time to exercise, and even the ability to hop on a bicycle and work outdoors. Today, they companies don't even do annual performance appraisals. Rather, performance is based on work goals reviewed often. This is explained well in the audio book "Measure What Matters" by John Doerr. It's a highly recommended read for those CEO's who want truly increase efficiency with any employee.
Unfortunately, this concept of 'well taken care of' employees did not catch on with most company business models. Perhaps after what we've all been through personally and in business this past pandemic year, companies will seek to achieve a good balance between work life and home life. A healthy balance that holds on to all the benefits office life has to offer in terms of human connection and interaction, while enabling employees to have a least a few days a month working from home – free of the stress commute brings.
Exciting New Opportunities for Self-Employed and Freelancers
Remote jobs have always been around. The problem was finding companies specifically seeking remote workers, such as these well known brands seeking remote workers now. Those of us who are self employed built our own businesses, whether it was in sales, service based industries, freelance work online or internet marketing. But I must confess. It didn't cross my mind to seek a part-time remote job to supplement my self-employment income until the idea of remote work came to the forefront after the pandemic.
Many freelancers and home based business owners have a few free hours each week when they don't have paid work to do. It may even be a couple of hours a day. We usually use that time to promote our services, whether it be through email marketing or increasing web traffic with SEO. You may not be looking for a full time job, but may be interested in gaining a bit more security from a regular part time employer. An employer that wants some of their staff to work from home.
FlexJobs is a website that lists only companies seeking remote workers. It's ideal for job seekers who are in search of a full-time job, as well as those desiring part-time. When you search for a remote job, each company job listing will show the percentage of work that is required to be remote. Some are only partially remote. Others are 100%, whether full or part-time.
How to Find Freelance Jobs and Remote Work or Both!
Our Freelance Jobs Feed on Twitter was created before Bill Gates even predicted there would be a pandemic. Recently we began posting the same up-to-the-minute freelance job opportunities on LinkedIn. With the many employees working remotely for the first time, we recently began promoting the idea that self employed business owners and freelancers can also supplement their income if they were connected with companies seeking flex workers. Whatever situation you are in, here are some links to assist you.
For Freelance Job Postings, follow our Freelance Jobs Feed on LinkedIn.

For full-time Remote Work or Flexible Jobs, Search for Companies Now Hiring!