The list of brand name companies that are hiring job seekers for remote work is growing. Maybe it was the pandemic, which produced a major shift in the way work gets done from home for employers. Orr perhaps it's simply just that many of these jobs have always existed, but were simply not heavily promoted.
Regardless of the reason, if you've been thinking about finding a full time remote job that eliminates the need for you to move for gainful employment, this is the job list for you.

[Bookmark: Remote jobs for each company are updated regularly]
Online Retail Giants | Remote Workers
Who wouldn't want to explore a remote job with a company who's mission to "keep commerce human." This online ecommerce platform maintains a remote work force of 1000 employees. There are always positions opening up so apply now for the latest remote jobs with this creative and artsy driven company: See remote work options at Etsy
The world's large online retailer is hiring. Even though a large base of their employees are only partially remote, 96% of the job postings listed here for this #1 largest internet company are for remote positions. You'll find fully remote jobs and partially remote for both full time and part time positions. Apply to Amazon
Social Media Companies Thrive on Remote Workers
Easily the number one social media company in the world, especially when you consider they also run WhatsApp and Instagram, this top tech and social media company has posted a long list of job openings for remote workers. These are 100% remote jobs you can do from home. See the list for Facebook Jobs.
This popular social media giant supports work flexibility by hiring for freelance, alternative schedule, part-time, temporary, and 100% remote jobs for multiple locations worldwide. See what remote jobs fit for you at Twitter
Within the realm of social media, you don't have to work for a social media platform to find a related job. There are companies hiring for social media jobs in a wide array expertise: Social media managers, strategists, analysts, specialist, content creators and system administrators. See the full list of jobs posted related to social media.
Remote Work Job Search
Here are some hot links to help you find the remote job that fits your interests and expertise.
While you are seeking a remote job, you may be interested seeing what companies are hiring "by location". This is ideal if you are seeking employment opportunities that are flexible and only partially remote. Even if looking for a 100% remote job, where the company is located can also be beneficial if you want to keep the same hours as your colleagues. The opposite is also true if you think down the road you'd like to move to a new country.
This interactive map shows job locations in the United States or you can select international job locations.
It's worth repeating. All jobs on these company lists are updated regularly. Bookmark this page to stay updated.
You can also search for any remote job from the general remote job search page.
Need Help Finding a Remote Job?
Get assistance for your job search to be connected with companies now hiring for remote work. Click Here for Job Seekers Help.
Membership has it's benefits – Take the Tour.
Join the Remote Job site dedicated to helping you find screened remote work. Job postings and articles featuring the latest companies now hiring are updated daily. This is a low cost high quality remote job service. Save 30% with promo code Save30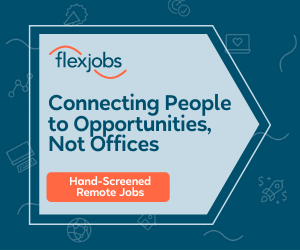 Search for the latest remote work postings now in all categories (fully remote, partially full time, part time, and freelance).